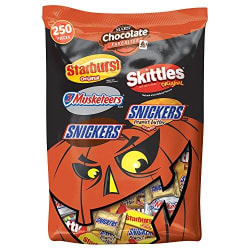 Giveaway: GHOULISH GOODIES
(Delivered)
MARS Chocolate and More Favorites Halloween Candy Variety Mix 95.1-Ounce 250-Piece Bag
Prize: MARS Chocolate and More Favorites Halloween Candy Variety Mix 95.1-Ounce 250-Piece Bag
Available on healthplus-productscenter.com
Estimated Value: $21.90
Brand: MarsFeatures: Contains one (1) 95.1-ounce, 250-piece variety mix bag of MARS Chocolate Bars and More Halloween Candy This assorted mix features fun-sized and minis-sized STARBURST, SKITTLES, 3 MUSKETEERS, SNICKERS Peanut Butter Squared and SNICKERS Chocolate Candy Bars Fill up your Halloween candy bowl with Fun Size and Minis Size chocolate candy bars for handing out to trick-or-treaters Take this 250-piece candy bag of MARS Chocolate Favorites to your next Halloween party Treat friends, family or coworkers to some of their favorite Halloween candy in this variety mix bag Publisher: Fun SizeRelease Date: 2015-08-04Details: Treat all your trick-or-treaters to their favorite MARS Brand Candy this Halloween. Order this variety assortment of delicious candies for your pumpkin candy bowl. This assorted bag features STARBURST Candy, SKITTLES Candy, 3 MUSKETEERS Candy, SNICKERS Peanut Butter Squared Chocolate Candy Bars and SNICKERS Chocolate Bars. It's easy for passing out on Halloween night or taking to Halloween costume parties. Plus, this candy assortment is a delicious choice for all candy lovers.UPC: 040000496205EAN: 0040000496205
Consolation Prize: 10% off
Anyone who enters but doesn't win the MARS Chocolate and More Favorites Halloween Candy Variety Mix 95.1-Ounce 250-Piece Bag will receive a code to unlock the discount.
These were the winner's odds
Yet more giveaways for you (new and somewhat related)
---
All Comments (1)
Nice. I usually buy 3 or 4 extra bags of candy to hold in reserve, fully knowing 5 trick or treaters or less will drop by. "I said ONE piece, kid!" With a big bag o' candy like this one, I'd have 245 pieces left for me on November 1!