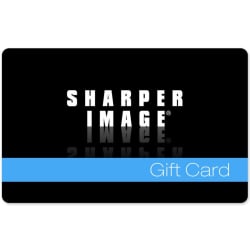 Giveaway: Get a Gift Card for Gadgetry
(Shipped)
A great way to get gift cards for gadget lovers or even gift givers is by getting a Sharper Image gift card to generous participants who have gained Karma by going without! No cap tho, if you're an odd housewares and gadget kinda guy or gal, this might be your best chance to make a yolo move with your Prizemojo Karma!
P.S. As you may already be aware, the giveaways you see on Prizemojo are going to be your final chances before we shut down the Prizemojo side of the game to pursue new endeavors. Yes, it is true, we might begin new careers as gift wrapping consultants for Dead Malls. Who knows? If you want to find out, when we know for sure, you can put your email in this form.

Prize: Sharper Image Gift Card
Available on sharperimage.com
Estimated Value: $50.00
Prize is digital
Your Electronic Gift Card will arrive in 1-2 business days to your email address. You'll receive an email confirmation with the gift certificate information that you can print out and give to someone, or forward the email to them.
Our Electronic Gift Cards never expire or have any hidden fees.
These were the winner's odds
Yet more giveaways for you (new and somewhat related)