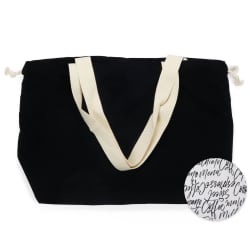 Giveaway: Freebie Friday!
(Delivered)
We love our new collection so much, we want to give a Hello Mello tote away!
Prize: Hello Mello Reversible (Black)
Estimated Value: $20.00
Perfect for an overnight stay or day on-the-go, the Hello Mello tote is the versatile way to transport your essentials. Wear navy, black or gray for a classic look, or flip inside-out to showcase one of three Leisure Time patterns: Field of Dreams, Caféology, Twilight Meadow. Convenient inside pocket safely stores sunglasses, phones & wallets. Cotton straps and easy-pull drawstrings offer comfortable durability for all-day wear.Available in three pattern combinations: Navy/Field of Dreams, Black/Caféology, Gray/Twilight Meadow. Match with Leisure Time Lounge Pants & Shorts for a complete set! Dimensions: 17.25 in L x 22 in W x 6 in D.
Consolation Prize: Free Hello Mello Reversible Tote
Anyone who enters but doesn't win the Hello Mello Reversible (Black) will receive a code to unlock the discount.
Giveaway Status:
Winner Selected

06/08/2019

Chica Boutique NY has received up to 3505 karma for delivering the prize!
These were the winner's odds
Yet more giveaways for you (new and somewhat related)
---
All Comments (3)
Discount code does not work. That's *bad* karma! Can you dock the sponsor for false advertisement?

Wookei - 06/08/2019 6:27 p.m. (direct link)

Discount code is not valid

tapindancer - 06/08/2019 10:26 a.m. (direct link)

The consolation prize promo code did not work for me. ☹️