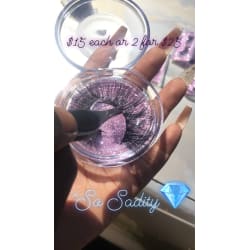 More details:
Winner did not receive prize
Giveaway: Free Lashes👀 and Hair Do💁🏽‍♀️ (Or Juvia's Place Foundation)
(Delivered)
Enter To Win: A FREE PAIR OF LUXURY LASHES🤩 AND A HAIR STYLE DONE BY MY STYLIST IF YOU ARE LOCATED IN SACRAMENTO, CA (Hair Not Included) If you are located anywhere else you will receive a BRAND NEW JUVIA's PALACE FOUNDATION!! I

Prize: So Sadity🤩
Available on lewksbylicia.myshopify.com
Estimated Value: $50.00
Beautiful 25' MM Mink Lashes and Either A Hair Do Done By Stylist (no hair included) or A Good Quality Foundation.
Consolation Prize: 25% off any pair of Luxury Lashes
Anyone who enters but doesn't win the So Sadity🤩 will receive a code to unlock the discount.
Giveaway Status:
Winner Selected

08/29/2019

LewksByLicia has received up to 170 karma for delivering the prize!
These were the winner's odds
Yet more giveaways for you (new and somewhat related)