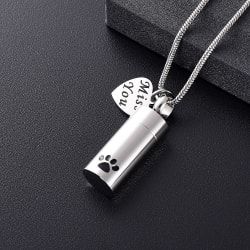 More details:
Giveaway: Forever in My Heart
(Delivered)
As lifelong animal lovers, we know firsthand the pain of losing your best friend. To others, it's just a cat or dog. To us, it can be even harder than losing a blood relative. That's why we are very pleased to be able to offer our "Pet Memorial Urn" Necklace. This quality piece is constructed of corrosion proof, solid stainless steel. It is 100% guaranteed not to chip, crack, discolor or oxidize with normal wear. The pendants are suspended from an attractive and luxurious snake link chain. It comes in an elegant black gift box with instructions including the funnel and toolkit necessary for its proper usage. The urn is suitable for not only ashes but also dried flowers, a lock of fur or any small remembrance you wish to deposit and carry near your heart to honor your lost loved one.
Prize: Pet Memorial Urn - Necklace
Estimated Value: $34.95
Pet Memorial Necklace This Memorial Urn Necklace is a very powerful and special way to honor your dearly departed, beloved pet. Like memories, it is made to last forever. Designed to bring comfort and courage during difficult moments and day-to-day life struggles. The elegant pendant is 20mm in diameter. Suspended by an 18" snake chain that is as durable as it is lovely. This piece is of polished stainless steel and will not rust, fade, tarnish or stain. The meticulous workmanship process makes it ideal for safely and securely holding ashes, locks of fur, or dried flowers. A tiny drop of super glue on the threads will assure its permanence. Stylish but not trendy, yours to cherish for decades to come. This magnificent piece can also make a heartfelt and thoughtful gift for someone close who has, unfortunately, lost a loved one. And though their soul has crossed the Rainbow Bridge, the memories remain always in our hearts. These custom pieces are in limited supply. Due to the delicate nature of this item, processing time is 2-3 days longer than normal. Thank you for your patience when ordering.   Your Order Will Include:
Elegant Black Jewelry Gift Box
Tool Kit to Fill the Urn
18" Snake Link Chain
Solid Urn and Charm
Instruction Manual
Consolation Prize: 20% Off of the Pet Memorial Urn featured in this Giveaway!
Anyone who enters but doesn't win the Pet Memorial Urn - Necklace will receive a code to unlock the discount.
These were the winner's odds
Yet more giveaways for you (new and somewhat related)