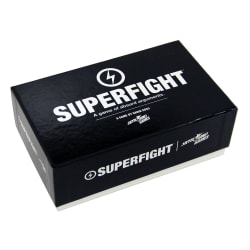 Giveaway: Fighting is best between close friends
(Delivered)
There are a number of problems with most super fights...
Those involved rarely even know each other (impersonal).
Lots of dodging, punching, high flying kicks (exhausting).
Ill timed: Alcohol can be consumed before but, usually, not during the fighting.
If these are frustrations you encounter in your own super fights, you should probably talk to your doctor and... maybe the police. Perhaps a psychiatrist. In the meantime you can also try winning a copy of this SUPERFIGHT card game! Lots of well-timed, high-energy, low-sweat, fun with friends and 100% on us (Wanderlink).

Prize: SUPERFIGHT Card Battle
Available on amazon.com
Estimated Value: $30.00
Combine character and attribute cards to make ridiculous fights and argue over who would win
160 character cards like: Zombie, child beauty pageant queen, and George
340 power and weakness cards like: Inside a giant hamster ball, uses the force, and swinging a shark on a chain
Giveaway Status:
Winner Selected

04/27/2017

Wanderlink has received up to 1365 karma for delivering the prize!
These were the winner's odds
Yet more giveaways for you (new and somewhat related)