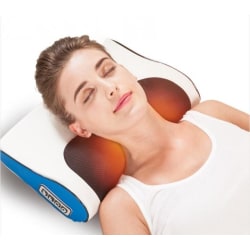 More details:
Winner did not receive prize
Giveaway: February Giveaway
(Delivered)
Enter the most anticipated giveaway of February. Valued at more than $100, it sure is one to win
Prize: Infrared Heating Massage Pillow (110V / USA / blue, EU Plug)
Available on smappaccessories.com
Estimated Value: $110.40
Product Features
Wavy curve design:Fits the cervical spine, relax and enjoy with Waist curve also fit. Imitation 16 hands massage: Designed with 16 massage balls, to clockwise and anticlockwise kneading/shiatsu massage, light and heavy kneading with a Warm glare Warm feeling. Constant temperature heating. Smart Timing: 15 minutes intelligent shutdown,Safe protective device to ensure safety. Intensity adjustment: choose according to demand, easy to use Four independent keys, easy to operate High-quality motor, give you quiet static enjoyment Can massage neck, back, waist, legs, and full body;
Consolation Prize: 20% Off entire order
Anyone who enters but doesn't win the Infrared Heating Massage Pillow (110V / USA / blue, EU Plug) will receive a code to unlock the discount.
Giveaway Status:
Winner Selected

02/19/2019

SMAPP Stores has received up to 5985 karma for delivering the prize!
These were the winner's odds
Yet more giveaways for you (new and somewhat related)