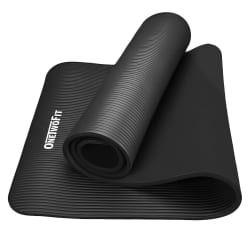 More details:
Winner did not receive prize
Giveaway: FEBRUARY GIVEAWAY
(Delivered)
Enter to win one of our One Two Fit Extra Thick Yoga Mats! These mats are comfortable, and they are made to last.
Get one free! Just enter to win.
Just for entering you will receive a discount code for 15% off of your first purchase.
Don't wait, enter today to win!
Prize: OneTwoFit 10mm Extra Thick NBR Exercise Mat Soft Yoga Mat Non-Slip with Carrying Bag and Strap for
Estimated Value: $44.00
Multi-Function: Ideal for yoga, Pilates, stretching, toning workouts and home fitness. It also can be used for camping, hiking, fishing, beach mat as it keeps cold and dampness away from the body.NBR Material: Made of high density Non-toxic NBR foaming material, which is tear resistant, durable and long lasting. Extra-large size (183cm length 61cm width) ensures comfort for people of all shapes and sizes.10mm Extra Thick: With high density foam material, the 10mm thick mat comfortably cushions spine, hips, knees and elbows while you do workouts on hard floors, prevent you from injury, and give you the most comfortable experience.Non-Slip Design: Double sided non-slip surfaces grip the floor to prevent injuries. Suitable for carpeted floors, hardwood (wooden) floors and tiles. Good sweat-absorbent, barefoot exercising can be done.Easy to Clean: Moisture resistant makes the mat to be easily cleaned with soap and water.Carrying Bag and Strap Included: When finished with your workout, just simply roll up your mat and attach the elastic carrying strap. We provide a durable carrying strap and bag to make it easier to storage and transport from home to the yoga studio or fitness club and back again.Specifications:Material: NBRSize: 183cm x 61cmThickness: 10mmColor: BlackWeight: 0.88kgPackage includes:1 x Yoga Mat1 x Carrying Strap1 x Carrying Bag  
Guaranteed Delivery in 4-15 Days
Get your order in 4-15 days or you will receive a 100% refund and keep the items for free! Plus shipping is already included with the price of each product.
Consolation Prize: 20% OneTwo Fit Yoga Mat
Anyone who enters but doesn't win the OneTwoFit 10mm Extra Thick NBR Exercise Mat Soft Yoga Mat Non-Slip with Carrying Bag and Strap for will receive a code to unlock the discount.
Giveaway Status:
Winner Selected

02/13/2019

My Yoga Zone has received up to 754 karma for delivering the prize!
These were the winner's odds
Yet more giveaways for you (new and somewhat related)