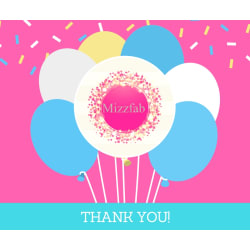 More details:
Giveaway: Fabulous Customer Giveaway
(Delivered)
Thanks to everyone supporting my page! Its an awesome overwhelming feeling! Im getting great offers and great feedback! Sales have been super great with happy customers! So for all this love I'm going to be doing a giveaway for an authentic Kylie Cosmetic Birthday Collection I want it all face palette. Good Luck!
Prize: New Kylie Jenner Birthday Collection I want it all Face Palette
Estimated Value: $54.00
New Kylie Jenner cosmetics birthday collection I want it all palette. Kylie products are not tested on animals and are vegan.  This is 100% authentic, straight from Oxnard, CA.  This is not a replica!  Copy of shipping confirmation will be included for authenticity. Each I Want It All contains the following shades:
Kyshadow
(Birthday Girl (satin shimmering champagne) (Buttercream Frosting (matte warm cream) (1942 (matte warm taupe) (Forever Young (matte warm soft pink) (New Year, New Me (metallic red plum) (The New Black (matte bright pink) (Party Time (matte light dusty mauve) (Celebrate (metallic golden brown) (Midnight (matte black)
Blush
Cheers (matte light pink)
Highlighter
Confetti (shimmering light pink)
Consolation Prize: Enjoy this 50% discount off one boutique item!
Anyone who enters but doesn't win the New Kylie Jenner Birthday Collection I want it all Face Palette will receive a code to unlock the discount.
These were the winner's odds
Yet more giveaways for you (new and somewhat related)