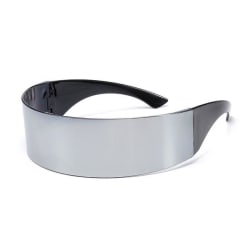 Giveaway: Eyes Of The Future
(Delivered)
Enter the "Eyes Of The Future" contest to win one of our bizarre Space Wrap Sunglasses! Winner gets choice of lens color. GOOD LUCK!
Prize: Space Wrap Sunglasses
Estimated Value: $14.95
Was that A.I. or an Alien? That's what they'll say when you're seen wearing our slick space wrap sunglasses. Goes very well with all black if shocking and bewildering is your intent.   Colors: Black Lens, Silver Lens
Consolation Prize: 25% OFF ENTIRE ORDER
Anyone who enters but doesn't win the Space Wrap Sunglasses will receive a code to unlock the discount.
Giveaway Status:
Winner Selected

11/20/2018

Clear About This has received up to 604 karma for delivering the prize!
These were the winner's odds
Yet more giveaways for you (new and somewhat related)