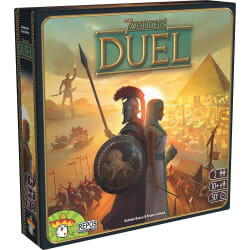 Giveaway: En garde . . . ready . . . build!
(Delivered)
Let's be honest: in these days of close confinement, duels will happen and when you least expect them . Maybe it will be a video-conference stare down with your closest friend or "pistols at dawn" in front of the kids. What better way to square off than with this two-player version of the 7 Wonders board game!? Whether you build a shining "city upon a hill," steeped in culture, education and invention -- or the city full of the brutes that tear it down -- it will certainly be cathartic!
Prize: 7 Wonders - Duel
Available on amazon.com
Estimated Value: $29.95
One of the most celebrated games in the world can now be experienced in a two-player arena.7 Wonders Duel takes the game play and excitement of the original and adapts it for one-on-one battles. Take control of your civilization and decide to invest in science, military or prestige. Two New ways to win will keep you on your toes and watching every move your opponent makes. If you fail to build defenses your capital city may be destroyed, but ignore technology and your people may be left in the dark ages. It's a constant tug of war.7 Wonders Duel is an exciting New way to play the game that took the world by storm. Great for both fans of the original and those New to the hobby.
Giveaway Status:
Winner Selected

07/14/2020

Wanderlink has received up to 8656 karma for delivering the prize!
These were the winner's odds
Yet more giveaways for you (new and somewhat related)