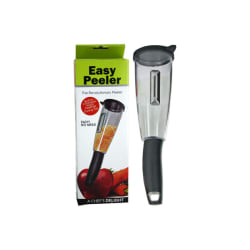 Giveaway: Easy Peeler
(Delivered)
Don't make a frustrating mess peeling apples, carrots, potatoes, and whatever else you need to peel. Instead, win this Easy Peeler and peel with ease. The Chef's Delight Easy Peeler features a integral scrap collection bin so you won't be peeling over the garbage can (yuck!). You can also use the scraps collected as a garnish, ingredient, or compost. Yes, with the Easy Peeler in hand, your life will be way easier.

Prize: Easy Peeler prize
Estimated Value: $12.00
Giveaway Status:
Winner Selected

08/12/2016

Only Ambiance Youtube has received up to 478 karma for delivering the prize!
These were the winner's odds
Yet more giveaways for you (new and somewhat related)
---
All Comments (2)
I think I watched the Price is Right too much as a kid. As I read the descriptions, they're all in Rod Roddy's voice in my head. And I always add "And it could all be yours, if the price is right!"