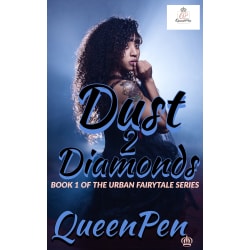 More details:
Giveaway: Dust 2 Diamonds Giveaway
(Forfeit)
ENTER FOR YOUR CHANCE TO WIN A COPY OF DUST 2 DIAMONDS!

Prize: Dust 2 Diamonds: An Urban Fairytale
Estimated Value: $10.00
Signed by the QueenPen herself:
In this urban take on Cinderella, Briella is trying to find her way in the world. She is dealing with her cruel stepmother who forces her to work in a brothel, being a slave to her step sisters and trying to keep her grades up. Despite feeling cursed in this cold world, Briella knows she always has her two cousins, Jakiah and August, and her Aunt Fay. That is, until one day her aunt is brutally murdered in her home. Briella and her cousins are now out in the world with nobody but themselves to lean on. In spite of their circumstances they find friendships in the most unsuspecting places. Prince has always been a gentleman, even though he was raised by a kingpin. When he meets Briella something else ignited inside of him. He instantly knows he must do whatever he can to protect her, especially from her stepmother who is the core of Briella's rough life. Prince finds himself bossing up and following his fathers footsteps to keep the love of his life safe. Ride along with them as they go on the roller coaster of life, love and deceit.
Consolation Prize: 10% OFF YOUR ENTIRE ORDER OF $20 OR MORE
Anyone who enters but doesn't win the Dust 2 Diamonds: An Urban Fairytale will receive a code to unlock the discount.
Giveaway Status:
Prize Forfeit

: The winner did not claim the prize (by providing their delivery information) within 2 weeks.
Yet more giveaways for you (new and somewhat related)