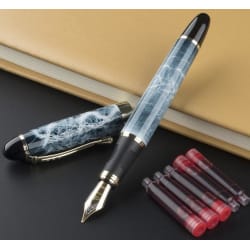 More details:
Winner did not receive prize
1 Comment
Giveaway: Droptab's Fountain Pen Giveaway
(Delivered)
Enter to Win your very own Fountain Pen brought to you by Droptab. All others will receive a 20% Off Coupon for your Entire Cart.
Prize: Jinhao 450 Fountain Pen Full Metal
Estimated Value: $12.99
Type: Fountain Pen Nib Material: Stainless Steel Packaging: Loose Nib Type: Standard Type Model Number: 450 Writing Point: 0.5mm Brand Name: JINHAO Fountain Pen's Tip Material: Other Metals Material: Metal Special Application: Writing
Consolation Prize: 20% Off Your Entire Cart
Anyone who enters but doesn't win the Jinhao 450 Fountain Pen Full Metal will receive a code to unlock the discount.
These were the winner's odds
Yet more giveaways for you (new and somewhat related)
---
All Comments (1)
Now that is a nice looking pen!