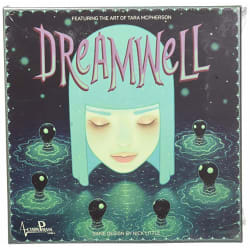 Giveaway: Dreamwell but don't get trapped!
(Forfeit)
A very fun, and quite eerie game of rescuing children trapped in their own dreams.
To quote Action Phase Games:
In a place outside the waking world where children go while they sleep. Wander the dreamkin—lost sleepers, whose souls this land seeks to keep. Underneath the gentle waves of lucid seas we fell. We're off to find our missing friends in the vast Dreamwell.
WHERE ARE THE PARENTS?!
Playing Dreamwell of course, enjoy!
Prize: Dreamwell
Available on amazon.com
Estimated Value: $20.00
Dreamwell is a 2 to 4 player competitive game featuring the art of Tara McPherson where players are trying to locate their lost friends in the Dreamwell. Only by carefully navigating the maze-like Dreamwell can you locate your friends and win the game.
30 minute play time
2-4 Players
Giveaway Status:
Prize Forfeit

: The winner did not claim the prize (by providing their delivery information) within 2 weeks.
Yet more giveaways for you (new and somewhat related)
---
All Comments (1)
Uhg, so want to enter but need the karma.