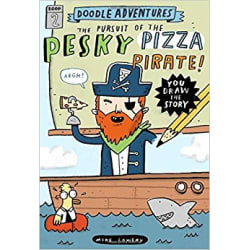 More details:
Giveaway: Doodle Duo!
(Delivered)
Why should professional illustrators have all the fun? If you or someone you knows loves to doodle, check out the Doodle Adventures Series ... and why not get started by entering to win a copy of "The Pursuit of the Pesky Pizza Pirate"? This graphic novel includes blank panels to allow the reader to add to the story. FINALLY you can scribble in your books without the guilt!
And if that whets your appetite, follow it up with the "Doodle Games Activity Book," which promises MANY DAYS OF FUN with just a pencil (I won't squeal on you if you get real bold and use a pen.) Draw beards on strange-looking fellows, create "squiggle masterpieces," complete symmetrical drawings, and more.
Both books are recommended for ages 8+, and I'm pretty sure that includes YOU!
Prize: Doodle Duo!
Estimated Value: $20.90
This prize duo includes:
"Doodle Adventures: The Pursuit of the Pesky Pizza Pirate" by Mike Lowery, published by Workman Publishing (104 pages, ISBN 978-0761187202)
"Doodle Games Activity Book" by Joe Rhatigan, published by Quarto Publishing Group (140 pages, ISBN 978-1633221123)
These were the winner's odds
Yet more giveaways for you (new and somewhat related)