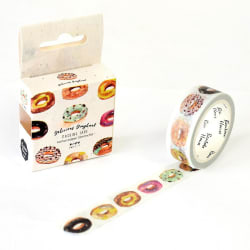 More details:
Winner did not receive prize
2 Comments
Giveaway: Don't Eat The Tape!
(Delivered)
This roll of washi tape, featuring a super cute hand drawn donut design can be all yours! But fair warning: it may look delicious, but we do not advise eating the tape.
Prize may take up to 60 Days to arrive to a US address, estimated between 20-40 days.

Prize: Donut Washi Tape
Estimated Value: $5.00
It's a roll of washi tape. With donuts on it.
Giveaway Status:
Winner Selected

06/02/2017

Paper Coat Paper Co. has received up to 376 karma for delivering the prize!
These were the winner's odds
Yet more giveaways for you (new and somewhat related)
---
All Comments (2)
Just don't eat it! We can not stress this enough.

I live under a rock, so I had to look up what Washi Tape is used for (I thought it was a specialty tape for baking). Turns out people use it for just about everything!