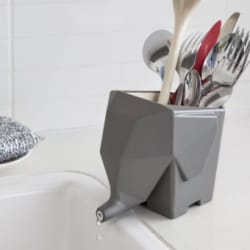 Giveaway: Don't Be Dumbo!
(Delivered)
Place this sink-side elephant cutlery drainer so his trunk hangs over the edge and the water drips into the sink. It collects the runoff water and directs it back into the sink, freeing up your counter space and keeping it dry. Can also be used in the bathroom to hold toothbrushes! Measures 6.3in (16cm) long x 3.9in (10cm) wide x 4.6in (11.7cm) high. Made of plastic.

Prize: Don't Be Dumbo! prize
Available on amazon.com
Estimated Value: $12.99
Giveaway Status:
Winner Selected

05/10/2016

Only Ambiance Youtube has received up to 55 karma for delivering the prize!
These were the winner's odds
Yet more giveaways for you (new and somewhat related)
---
All Comments (10)
Looks cool, but alas I dint have room for it.

ordinaryghost - 05/09/2016 4:30 a.m. (direct link)

Hey! Neato!

Softmoron - 05/09/2016 1:26 a.m. (direct link)

it feels like it's been years since the coppergoose flew away, I'm so excited to see Prize Mojo up! AAAAAHHHHHHHHHHH!

Softmoron - 05/09/2016 1:24 a.m. (direct link)

*breathes heavily*

gigabriggs - 05/08/2016 12:12 a.m. (direct link)

This is so cute 😭

greychild - 02/21/2015 4:35 p.m. (direct link)

That's pretty cool!