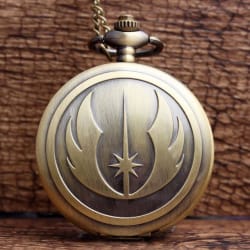 Giveaway: Do or Not Do. Try there is not.
(Delivered)
May you force the with be to win this Jedi Knight pocket watch. I picked it up from our friends at My Magical Bookstore because I thought it was kind of cool, and someone out there might like to win it.
When I originally bought this, I did so with the intention of making some cleaver pun to promote some idea I had, but it has been awhile and I no longer remember what I had in mind.
I feel like this is my time to shine, but I can't think of anything to say... Good luck, amigos!

Prize: New Fashion Bronze STAR WARS Jedi Knight Pocket Watch
Available on mymagicalbookstore.com
Estimated Value: $14.99
Item Type: Pocket & Fob Watches Brand Name: Gorben Dial Material Type: Stainless Steel Bezel Function: Unidirectional Case Shape: Round Water Resistance Depth: 0 Bezel Material Type: Stainless Steel Style: Fashion & Casual Case Material: Stainless Steel Dial Window Material Type: Acrylic Movement: Quartz Dial Diameter: 4.8 Model Number: P198 Condition: New without tags Feature: Analog Dial Display: Analog Gender: Unisex Coulour: Bronze
These were the winner's odds
Yet more giveaways for you (new and somewhat related)
---
All Comments (2)
@geektastic Yes, Jedi Knights, use the force to bring the prize to you... :)

May the force be with you!