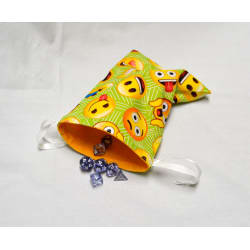 Giveaway: Dice Have Feelings Too?
(Shipped)
It has been awhile since I did my last giveaway. I thought it was time for a new one!
All the emojis - all the emotions. My dice have made me feel each one of these during various games.
Prize: Emoji Drawstring Dice Bag or Gift Pouch
Available on etsy.com
Estimated Value: $10.00
Emojis - Happy, Sad, Love, Scared - all on this fully lined, drawstring bag!
8 x 6 inch drawstring bag. 100% cotton, with polyester ribbon ties.
All my bags are fully lined with a contrast fabric! This makes them more durable and last longer than unlined bags.
Perfect for dice, other small items or as a gift bag.
Each bag is individually made. Because of this, actual products may not appear as exactly pictured.
These come from a non-smoking, pet-friendly home.
Consolation Prize: 10% Off of Anything In My Etsy Shop! Good until March 20th
Anyone who enters but doesn't win the Emoji Drawstring Dice Bag or Gift Pouch will receive a code to unlock the discount.
These were the winner's odds
Yet more giveaways for you (new and somewhat related)