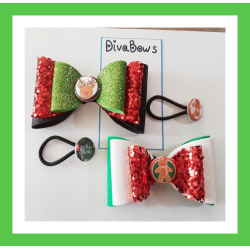 Giveaway: December's Giveaway
(Delivered)
This is for a set of 4 Christmas theme hair accessories, these are super cute and unique. Enter for a change to win.
Prize: Set of 4 DivaBows Christmas theme, red, green, black, white, ponytail holders, BIG
Estimated Value: $10.00
This is for a set of 4 DivaBow's that are full of sparkle and are three layers. In the middle of the bow we have cute Christmas theme buttons that is one inch in size. These bows are very cute and are perfect for babies, pets, adults, anyone who loves bows.  You are also getting 2 matching ponytail holders. These are handmade and one of them is 4 inches wide, while the other is 4.5 inches wide. These bows will make a great addition to any accessory collection or help you to start one. They will come with alligator clips you can attach onto the hair, or headband if you like. If you have any questions at all please feel free to ask.    Items are shipped within 3 business days after receiving payment.  
Giveaway Status:
Winner Selected

12/12/2018

Diva Accessories N More has received up to 344 karma for delivering the prize!
These were the winner's odds
Yet more giveaways for you (new and somewhat related)
---
All Comments (1)
Wow, cute for a person or even a Christmas tree.