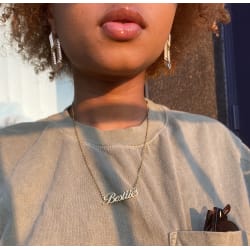 Giveaway: Crazy 416 GIVEAWAY
(Claimed)
Hey new friends! I've just opened my new store ' Crazy416 ' and I am so excited to see you guys rock my accessories. This months Giveaway Prize will be a ' Bestiies ' necklace from the CrazyLilAri Merchandise collection. Congratulations on entering this giveaway and good luck.
Prize: "BESTiiES" NECKLACE (gold)
Estimated Value: $15.00
NEW custom necklaces from the CrazyLilAri merchandise collection. Material: 316L Stainless Steel/Titanium Steel
please note that these materials do not rust easilybut good maintenance includes keeping the jewelryout of water.
Consolation Prize: CONGRATULATIONS ! Enjoy 20% off of your first order !
Anyone who enters but doesn't win the "BESTiiES" NECKLACE (gold) will receive a code to unlock the discount.
These were the winner's odds
Yet more giveaways for you (new and somewhat related)