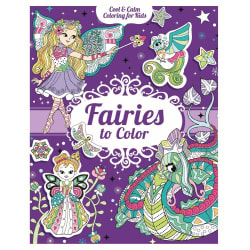 More details:
Giveaway: Cool & Calm Coloring Prize Pack
(Delivered)
Adult coloring has become so ubiquitous that now coloring books for kids need to announce themselves as such -- which is just what this coloring book series does!
The "Cool & Calm Coloring for Kids" series includes the sorts of intricate designs we've come to expect from adult coloring books while not foregoing the whimsy of childhood. If you're tired of the child in your life coloring in all your coloring books, consider throwing some karma at this prize pack to get the young'uns some coloring books of their own! (Or keep these to yourself, too, if that's the kind of person you are.)
This prize pack includes, "Fairies to Color," which comes with 190 stickers; "Fabulous Fashion Coloring Fun," which has a paper doll-like format; and "Animal Babies," which doesn't have any extra bells and whistles ... but it's baby animals, so does it really need any?
Prize: Cool & Calm Coloring Prize Pack
Estimated Value: $20.97
This prize pack includes:
"Cool & Calm Coloring for Kids: Fairies to Color" (ISBN 978-1438010335)
"Cool & Calm Coloring for Kids: Fabulous Fashion Coloring Fun" (ISBN 978-1438010328)
"Cool & Calm Coloring for Kids: Animal Babies" (ISBN 978-1438010311)
These were the winner's odds
Yet more giveaways for you (new and somewhat related)