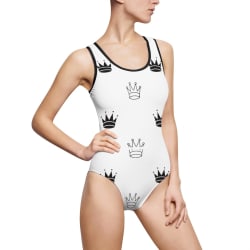 More details:
Winner did not receive prize
Giveaway: CONTRABRANDS - Queen For A Day Swimsuit Giveaway
(Delivered)
Welcome to the shopcontrabrands.com giveaway!We're giving one lucky queen a CONTRABRANDS ORIGINAL swimsuit. Connect with us on instagram and fb for all types of great stuff! Be sure to follow us @contrabrands for lots of great content, flash sales, influencer discounts and more. Signup for our emails for 15% off too!
Prize: Queen For Da Day One-Piece Swimsuit (Black / M)
Available on shopcontrabrands.com
Estimated Value: $49.50
This one-piece swimsuit is designed for fashionable women; stylish and personalized. Because of an advanced heat sublimation technique, it will not fade in water..: Made of 83% Nylon 17% Spandex .: Light Fabric (5.26 oz/yd² (178 g/m²)) .: U-shape cut front and back .: Elastic strap edges .: Runs smaller than usual
Consolation Prize: FREE SHIPPING
Anyone who enters but doesn't win the Queen For Da Day One-Piece Swimsuit (Black / M) will receive a code to unlock the discount.
Giveaway Status:
Winner Selected

04/29/2019

shopcontrabrands.com has received up to 405 karma for delivering the prize!
These were the winner's odds
Yet more giveaways for you (new and somewhat related)