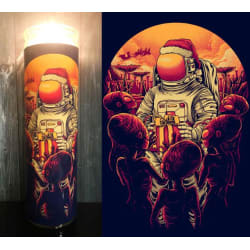 Giveaway: Cloud 9 Candle Scented Candle Giveaway
(Delivered)
We are giving away a Amazing original Art Graphic Candle for the Holiday Season.
Prize: Christmas On Mars. (Smoked Cognac)
Estimated Value: $16.00
Even Aliens believe in Santa
Giveaway Status:
Winner Selected

11/24/2018

Cloud 9 Candles has received up to 598 karma for delivering the prize!
These were the winner's odds
Yet more giveaways for you (new and somewhat related)
---
All Comments (2)
Wow, that is some intriguing artwork.