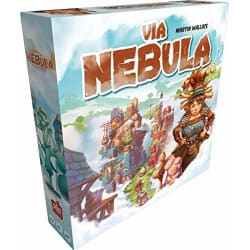 Giveaway: Clear the fog and discover... a fun light-strategy game!
(Delivered)
Not unlike the task of cleaning your home after hosting a long board game night, "Via Nebula" is a board game featuring the discovery of treasures and opportunity following a dark age of chaos and monstrous creatures. Particularly the nameless one, Darrell, who eats and drinks more than his share of snacks and beverages, never using a coaster! Win or purchase "Via Nebula" and you can experience it all again but maybe without Darrell and this time in the form of a light, fun strategy game for 2-4players!
Prize: Via Nebula
Available on amazon.com
Estimated Value: $16.23
A valley emerges from an era of monstrous creatures and darkness. A thick fog lingers, concealing treasures and opportunities untold. You're going to clear the fog, unveil natural resources, and build up society so the valley's people can live in peace and prosperity once again.
In the game Via Nebula, players compete to rebuild the Nebula Valley as it recovers from a dark age, by clearing the valley's fog and locate resources. Whoever has done the most to restore the region's buildings and towns wins!
Giveaway Status:
Winner Selected

11/07/2019

Wanderlink has received up to 9688 karma for delivering the prize!
These were the winner's odds
Yet more giveaways for you (new and somewhat related)
---
All Comments (2)
Uhg... As much as it hurts to pass on this, I doubt I'm going to win with the limited Karma I have... Hope whomever wins this enjoys the game!