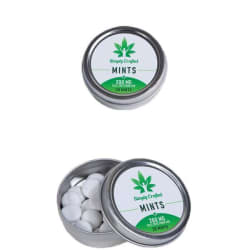 Giveaway: Check Out This Fresh Giveaway!
(Delivered)
All Natural 200mg CBD & GABA Infused Mints (20 Count)
Prize: Simply Crafted Mints - 200mg CBD & 200mg GABA
Estimated Value: $25.00
Enriched with full-spectrum CBD, our crafted mints are the perfect way to refresh the mind and your breath. Each box contains 200mg of CBD infused with 200mg of GABA. GABA and CBD combine together to lower anxiety, stress, and depression. The neuro components also aid in treating insomnia and chronic restlessness.   Each mint contains less than 0.3mg of THC. Consult your medical practitioner before combining with medicines or using them as alternatives.
A great alternative to tinctures
10mg CBD and GABA per mint
Refreshing taste and sensation
Vegan and GMO-free
No chemicals or solvents
Discreet and effective
Low in calories
Lab Tested | 100% Organic | Made in the USA  
Consolation Prize: 20% Off Regular price
Anyone who enters but doesn't win the Simply Crafted Mints - 200mg CBD & 200mg GABA will receive a code to unlock the discount.
Giveaway Status:
Winner Selected

11/12/2019

Simply Crafted CBD has received up to 1833 karma for delivering the prize!
These were the winner's odds
Yet more giveaways for you (new and somewhat related)