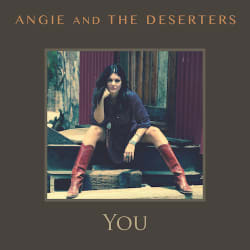 Giveaway: Chance to Win Angie and the Deserters' Records!
(Claimed)
Americana and Alt-country group, Angie and the Deserters have been notably recognized for the band's edgy sound and front woman, Angie Bruyere's unique and raspy vocals. The band released their debut full- length, West of the Night in 2014.
In 2016 Angie and the Deserters released two rousing EP's, Blood Like Wine and You, that each were recorded in Nashville's legendary Castle Recording Studios with renowned country producer Jeff Huskins (Clint Black, Keith Urban) and mastered by Grammy® Award Winning, Bob Ludwig (Rolling Stones, Led Zeppelin, Jimi Hendrix). Singer- songwriter and front woman Angie Bruyere will send chills up the spine with her poetic lyricism and her one-of-a-kind gravelly vocals. The band's richly layered instrumental is infused with dreamy guitar riffs, enticing violins and a compelling percussion. Together the group evokes vivid imagery that brings their heartwarming stories to life.
Here is your chance to win a copy of all three records!
Prize: Angie and the Deserters CD Prize Pack - You EP, Blood Like Wine EP, West of the Night-US ONLY
Available on angieandthedeserters.com
Estimated Value: $20.00
Already announcing a brand new single and EP each entitled "You," Angie and the Deserters prove they are not going anywhere anytime soon. Produced by Jeff Huskins (Keith Urban, Carrie Underwood), the single is filled with soaring pain as Angie's chilling vocals highlight a time of realization in a withering relationship. The band's latest releases from their recent EP, Blood Like Wine have received some honorable recognition. Angie and the Deserters most recent single "The Gift" debuted on Radio Indie Alliance's charts at #1 the first week of its release while the "Country Radio" music video reached over 32K views on Facebook and YouTube.
Sponsored by: MHP
Sponsor rating: None yet
Giveaway Status:
Winner Selected

04/29/2017

MHP will receive up to 78 karma for delivering the prize!
These were the winner's odds
Yet more giveaways for you (new and somewhat related)