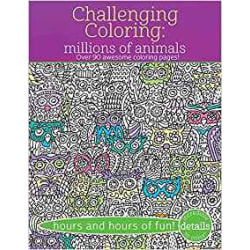 More details:
Giveaway: Challenging Activity Book Giveaway
(Delivered)
Are you up for a challenge? Or maybe three? Then you should enter this giveaway, which could net you not one, not two, but THREE activity books full of challenges!
"Challenging Picture Puzzles" and "Challenging Spot the Difference" both include visual puzzles with a challenge to complete each in under two minutes and twenty seconds. The challenges get progressively harder as you get deeper into the book. Start at the front and work up your skill, or start at the back so that you can feel super smart when you arrive at the front!
And when you're ready to throw that 2:20 timer across the room, relax with "Challenging Coloring," which boasts millions of animals to color and "hours and hours of fun."
Of course, it all starts by challenging other users and throwing your karma into the ring!
Prize: Challenging Activity Book Giveaway
Estimated Value: $23.97
This prize pack includes:
"Challenging Picture Puzzles: Over 75 Timed Puzzles to Test Your Skills" (ISBN 978-1438009797)
"Challenging Spot the Difference: Over 60 Timed Puzzles to Test Your Skills" (ISBN 978-1438009803)
"Challenging Coloring: Millions of Animals, Over 90 Awesome Coloring Pages!" (ISBN 978-1438009780)
These were the winner's odds
Yet more giveaways for you (new and somewhat related)