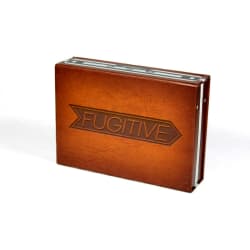 Giveaway: Catch this game before it escapes!
(Delivered)
We would like to offer everyone a chance to to bring in the new year in style -- that is, by way of an intense chase-scene centric board game! Pick a best friend or loved one to hunt (or escape from) with all of the wits, and luck, afforded you. Don't hold back, anything goes (within the rules described by the game and any and all accessories therein)!
Prize: Fugitive Board Game
Available on fowers.games
Estimated Value: $23.00
Fugitive - a tense two player deduction card game, full of close calls and great escapes - all packed into 10 minutes! It's a quick, intense chase between the Fugitive, who is trying to get out of town, and the Marshal, who is trying to catch him before he does.
Hunter or Prey - each side plays very differently.
Deduction - using a simple set of numbered cards, you have to deduce where the Fugitive's hideouts are located.
Bluffing - You can feign large jumps to throw the Marshal off your trail.
Easy to Learn - Read the Rules or Watch this how to play video.
What's in the box:
Stylish briefcase box - thick stock, magnetic latch.
43 hideout cards - UNIQUE original art on each card
17 event cards
2 Player Role cards
Laminated Notecard for Marshal to take notes
Dry Erase Marker
Instructions
Giveaway Status:
Winner Selected

12/28/2017

Wanderlink has received up to 3403 karma for delivering the prize!
These were the winner's odds
Yet more giveaways for you (new and somewhat related)