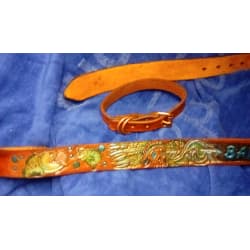 Giveaway: Blu Collar Christmas
(Claimed)
Hand made Leather bracelet, or dog collar. High quality leather custom made, give me a measurement and it will be made for you in the size you want

Prize: Handmade leather bracelet or dog collar.
Estimated Value: $36.00
Nice leather, we will even add initials, made with your measurements
Giveaway Status:
Winner Selected

12/26/2019

Blu Collar Syndicate will receive up to 759 karma for delivering the prize!
These were the winner's odds
Yet more giveaways for you (new and somewhat related)
---
All Comments (2)
It's veg tan, I rarely use anything else. I will make exceptions if asked. I just prefer the quality for tooling and it's more environmently friendly. Sorry it took this long to answer. Holidays have been crazy. If there's anything else you'd like to know, feel free to message.

A.L. - 12/25/2019 4:06 p.m. (direct link)

Is the leather vegetable tan or chemical tan? Asking for skin sensitivity reasons...