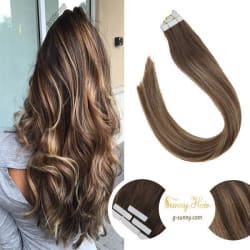 Giveaway: Being Charming & Beautiful Lady
(Delivered)
Join Sunny Hair -- 100% human hair extensions & wig expert!! Get FREE tape in human hair extensions, Being Charming & Beautiful Lady!
Prize: Tape in Balayage Dark Brown and Caramel Blonde Human Hair Extensions #4/27/4 (14" 50g)
Available on g-sunny.com
Estimated Value: $98.30
Sunny Hair——Well-known Registered Brand in the Europe, the United States and Canada
Description
Spring Super Sale:Save $23.9 with coupon code SUNNY229, if order over $229. Save $16.9 with coupon code SUNNY159, if order over $159. Save $8.9 with coupon code SUNNY99, if order over $99. Hair
Weight:2.5g/piece,20pcs/50gram for one pack,40-60pcs for full head attachment.
Hair Color: #4 dark brown fading to 27# caramel blonde mixed 4# .Color matching service is available.
Hair Texture: Silky straight,would get a little wavy after washing or improper packaging.
Hair Quality: 100% real remy human hair, natural,silky and soft.Can be curled, straightened, and restyled as your own hair.
Advantages: premium hypoallergenic tape adhesive: strong,safe and non-damaging. Easily and naturally blend with your hair.
Notice:
Don't wash the hair with the conditioner before using the tape Never install at the crown or too close to the nape of the neck. Make two extensions strips are glued together with a part of your own hair in between them. Don't wash your hair after using the tape at least 48 hours. When you use the conditioner to care the hair, please don't touch the attachment tape. The hair can be straightened, curled, washed and restyled as you like. Please notice that the temperature should be under 180℃. 
If the hair extensions look very frizzy and unnatural, you could try to put the hair extensions into conditioner at least 30 minutes, or you could try to use the essential oil to care the hair extensions.
Much hair extensions maintenance content, click enter HOW TO CARE
Consolation Prize: 10% OFF DISCOUNT WITHOUT LIMITATION
Anyone who enters but doesn't win the Tape in Balayage Dark Brown and Caramel Blonde Human Hair Extensions #4/27/4 (14" 50g) will receive a code to unlock the discount.
These were the winner's odds
Yet more giveaways for you (new and somewhat related)