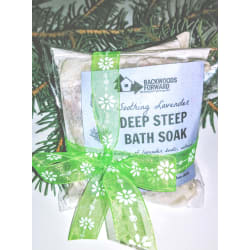 Giveaway: Beat the Holiday Stress!
(Delivered)
We all know that the Holidays are wonderful, but can also lead to a lot of stress! Keep yourself relaxed with this Soothing Bath Soak.

Prize: Soothing Bath Soak
Estimated Value: $12.00
Deep steep yourself into botanical bliss. Lavender buds, oatmeal, dead sea salt, epsom salt, and aromatic essential oils will soothe and ease your body from head to toe. Included 3 disposable bath tea bags, easy to use and compostable when done. Handmade in Fort Collins, Colorado, USA.8 oz
Consolation Prize: Free shipping on any order over $25!
Anyone who enters but doesn't win the Soothing Bath Soak will receive a code to unlock the discount.
Giveaway Status:
Winner Selected

10/02/2019

Backwoods Forward™ has received up to 1007 karma for delivering the prize!
These were the winner's odds
Yet more giveaways for you (new and somewhat related)