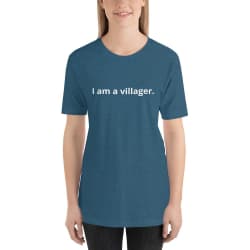 Giveaway: Be truly ultimate in this werewolf, err, villager shirt!
(Delivered)
The best use of an "I am a villager" shirt, from Game Nite Shirts, is to add an extra element of fun and distraction when playing the game "Werewolf", or any of its variants. In fact, if you, or someone you know, is planning to attend a game convention and would like to wear one of our shirts to the event, contact us and we will deliver a shirt of your choice to you for free.
Events aside, this "I am a villager" shirt can also be a fun way to spark random conversation with potential fans or confused strangers. On the off chance you don't feel like explaining Werewolf rules to a complete stranger, you can always tell them you are a huge fan of the band Villagers. If they just happen to also be a fan, and want to talk about them, simply reply "Let's not talk about Villagers, I could go on for HOURS". At this point we also suggest belting out a raucous laugh that tapers off with a faint hint of desperation.
Anywho, however you hope to use your "I am a Villager" shirt, know that this giveaway is offering you a chance to win it in any size/color or at least a deep discount at gameniteshirts.com!
Prize: I am not lying (honest) Unisex T-Shirt, now in color! (Heather Deep Teal / L)
Estimated Value: $27.50
You and your friends are playing a game of Werewolf. Starting the game as a thief, you swapped your role for that of the Werewolf. "I am a villager," you say while trying to hold back a smirk. After what you think is a short pause, you say "Honest." Wait, why is the person across the room looking at you like that? Did you pause too long in your response? What are they hiding? You only know one thing for sure. Displaying your innocence in print with the shirt you got from gameniteshirts will make this game all the more interesting!
This t-shirt feels soft and with the right amount of stretch. It's comfortable and flattering for both men and women. Most importantly, it is lightweight, to help you keep your cool while under the burning stares of your accusers.
• 100% combed and ring-spun cotton (heather colors contain polyester) • Fabric weight: 4.2 oz (142 g/m2) • Shoulder-to-shoulder taping • Side-seamed
The Male model is wearing a size M. He's 6.2 feet (190 cm) tall, chest circumference 37.7" (96 cm), waist circumference 33.4" (85 cm). The female model is wearing a size M. She's 5.8 feet (178 cm) tall, chest circumference 34.6" (88 cm), waist circumference 27.16" (69 cm), hip circumference 37.7" (96cm).Size guide
XS S M L XL 2XL 3XL 4XL
Length (inches) 27 28 29 30 31 32 33 34
Width (inches) 16 ½ 18 20 22 24 26 28 30
Consolation Prize: 50% off any Werewolf related shirts, limit 1 per customer
Anyone who enters but doesn't win the I am not lying (honest) Unisex T-Shirt, now in color! (Heather Deep Teal / L) will receive a code to unlock the discount.
Giveaway Status:
Winner Selected

03/10/2019

Game Nite Shirts has received up to 1012 karma for delivering the prize!
These were the winner's odds
Yet more giveaways for you (new and somewhat related)
---
All Comments (5)
@Cormacc Thanks! No worries about the prize, we are working on getting the winner (Nemz) the (completely free) shirt right now. The discount is a consolation prize for those who entered (but didn't win) will get. We do of course hope you will consider taking advantage of the discount! We plan to run more giveaways but it will be newer designs so it might be a while until we giveaway this particular shirt design again.

Cormacc - 03/12/2019 1:31 p.m. (direct link)

You do realize that a prize is something that is given for free. A discount on a purchase is not a prise, it is advertising. Nice Discount and Interesting Shirts.

Scrounged up 230 some karma, ignoring some giveaways I really wanted, and it was so worth it.

@Nemz Push it to the limit! http://southpark.cc.com/clips/153324/sports-training-montage

I'm going to need so much karma between now and the start of this giveaway.