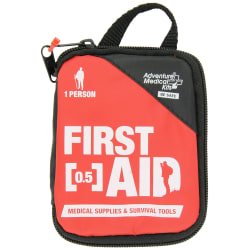 Giveaway: Be Ready for Bad News -- First Aid Kit
(Delivered)
It's always best to be prepared for bad news and with this lightweight, portable first aid kit, you will be! It will come in handy for any scrapes or bumps you experience while you're out and about. I don't think it will be too helpful in the event of a broken leg... so make sure you've got something to suppliment it with, like a medical degree, if you think the news is going to be really bad. Oh, and stay on top of the news by watching Alternative News Digest every day!

Prize: Be Ready for Bad News -- First Aid Kit prize
Available on amazon.com
Estimated Value: $7.00
Giveaway Status:
Winner Selected

10/12/2016

Only Ambiance Youtube has received up to 584 karma for delivering the prize!
These were the winner's odds
Yet more giveaways for you (new and somewhat related)