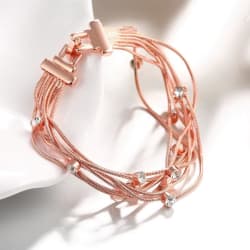 Giveaway: Be BOLD, with rose GOLD.
(Delivered)
What would be a better way to get ready to go out on the town with this elegant 18K Rose Gold Plated Wrap Bracelet. To celebrate our shops grand opening, were giving away a 18K Rose Gold Plated Wrap Bracelet. Runner up will receive a 25% off coupon code for entire order, no minimum.
Prize: 18K Rose Gold Plated Wrap Bracelet
Estimated Value: $39.99
Spoil yourself or someone you know with this beautiful irresistible piece, for any occasion and sure to get a lot of attention! Special gift idea. No matter if you're shopping for your own mother, or your grandmother, wife, daughter, or granddaughter, touch their heart with this beautiful, stunning and unique pair of jewelry.  
Size: 18CM  Material: Top Grade Crystal  Weight(grams): 14.90
Consolation Prize: 25% off your entire order. No order minimum
Anyone who enters but doesn't win the 18K Rose Gold Plated Wrap Bracelet will receive a code to unlock the discount.
Giveaway Status:
Winner Selected

02/21/2019

Simplistic Memories has received up to 574 karma for delivering the prize!
These were the winner's odds
Yet more giveaways for you (new and somewhat related)
---
All Comments (1)
Becca - 02/28/2019 3:36 p.m. (direct link)

I was delighted to win this gorgeous bracelet from such a thoughtful sponsor. Thank you!!!