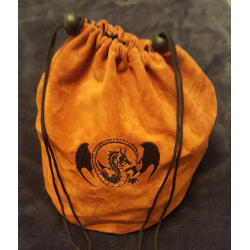 Giveaway: Bag of Holding
(Delivered)
Super large bag to hold dice or anything else you may need to carry for gaming purposes or otherwise!
Prize: D&D Embroidered Dragon Large Velvet Dice Bag (Empty)
Estimated Value: $12.96
RPG D&D Dragon Embroidered Brown Velvet Dice Bag Dungeons and Dragons Large w/ Black Satin Lining .
Locking toggles on drawstring.  Circular bottom to sit flat.  Approx. 6x8 inches.  Easily holds at least 40 SETS of dice (280 dice)!  Really a massive dice bag!
Two variations available, empty or full. If you choose full we will fill the bag with 30 dice sets (210 dice!) and other goodies from our shop prior to shipping. Empty will ship with no dice.
Condition is New.
Shipped with USPS First Class Package.
Don't forget to look to look at our other items for discounted shipping costs!
Giveaway Status:
Winner Selected

04/02/2021

RPGSTORAGE has received up to 4903 karma for delivering the prize!
These were the winner's odds
Yet more giveaways for you (new and somewhat related)
---
All Comments (2)
A.L. - 04/01/2021 9:54 a.m. (direct link)

@prizemojo - I think part of the site is broken again - It's a day and a half past this giveaway's start time and it still hasn't started. Just wanted to let y'all know.