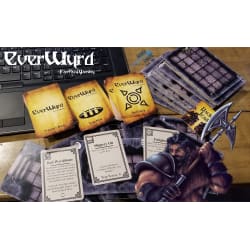 More details:
Giveaway: As Promised: EverWyrd Beta Set
(Delivered)
As promised, we are doing a giveaway for the final beta set of EverWyrd. This is the pre-crowdfunding campaign version of the game and will include the beta rulebook and several samples of the quests. This set does not yet contain any of the artwork, but the game rules are 100% complete.
The $70 listed is what the beta set cost us to make, not what the game will be valued at.

Prize: EverWyrd Beta
Estimated Value: $70.00
This is a pre-crowdfunding beta set of EverWyrd tiles and cards which will include a printout of the rulebook and some of the quests.
Consolation Prize: 10% Off Everything!
Anyone who enters but doesn't win the EverWyrd Beta will receive a code to unlock the discount.
These were the winner's odds
Yet more giveaways for you (new and somewhat related)