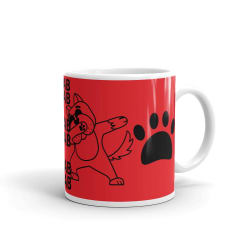 Giveaway: ARE YOU THE LUCKY ONE?
(Shipped)
Hi Guys!
This 2020 Gigi's Market started a monthly giveaway. Enter for a chance to win our selected item exclusively designed & sold at our store!
Please show some love using our hashtag #TeamGigi on our social media pages @gigismrkt and check out the rest of our products at gigismrkt.com.
Thanks!
Gigi's Market
Prize: Mug | DAB - PET EDITION (11oz)
Available on gigismrkt.com
Estimated Value: $17.95
Whether you're drinking your morning coffee, evening tea, or something in between – this mug's for you! It's sturdy and glossy with a vivid print that'll withstand the microwave and dishwasher.
• Ceramic • Dishwasher and microwave safe • White and glossy
Consolation Prize: 15% OFF YOUR ORDER
Anyone who enters but doesn't win the Mug | DAB - PET EDITION (11oz) will receive a code to unlock the discount.
Giveaway Status:
Winner Selected

02/21/2020

Gigi's Market will receive up to 772 karma for delivering the prize!
These were the winner's odds
Yet more giveaways for you (new and somewhat related)