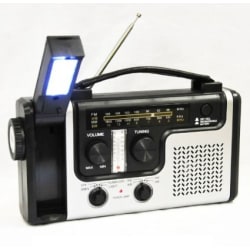 Giveaway: An Emergency Radio - Don't be Home Without It
(Delivered)
If your internet connection is severed by strong winds and you aren't able to get updates from the Alternative News Digest, you'll want to have something like this Emergency Radio to get the latest FEMA Camp Propaganda. The radio also includes a flashlight and cell phone charger so you won't find yourself not playing pokemon-go (snowpocolypse edition) in the dark!
The radio can be powered by AA Batteries, hand crank, solar, or DC adapter. It might not be the best emergency radio in the world according to reviews, but you know what they say.... the best emergency radio is the one you have with you.
Good luck!
Prize: Emergency Radio, Flashlight, and Charger (Solar/Hand Crank) AM/FM/NOAA
Available on amazon.com
Estimated Value: $22.00
This is a MUST for any survival kit. It comes with AM/FM/SW/weather band radio, thermometer, cell phone charger jack, bright LED flashlight, and a flip up LED reading Light. It can be charged by solar, hand crank, 110 outlet (power adaptor not included), or 3 AA batteries (not included). Unit is small, compact, light, and easy to carry.
Features:
4 Ways to Power Up:
Hand Crank The Dynamo Handle
Unit is self-charged by the built in solar panel
Battery Power (3 "AA" Batteries Not Included)
DC Adaptor 12 volt (Not Included)
AM-FM Radio
Shortwave Band
Weather Band
4-Brilliant White LED Flashlight
4-Led Solar Powered Work Light
1-Red Emergency Light
Emergency Siren
Thermometer
Telescopic Antenna
Earphone Jack
Built In Speaker
Cell Phone Charging Jack (DC Cord and USB adaptor is included)
Dimension: 24 2x 118 x 84 mm or 9.5"x 4.6 x 3.3 inches
Weight 1 pound 3 oz (with out dry cell batteries)
Giveaway Status:
Winner Selected

11/23/2016

Only Ambiance Youtube has received up to 919 karma for delivering the prize!
These were the winner's odds
Yet more giveaways for you (new and somewhat related)
---
All Comments (3)
This radio looks cool. So excite! For the winner...

2clever4tehmojo - 11/22/2016 4:42 p.m. (direct link)

I think that is an awesometer

Looks like it has a thermometer too! No confirmation yet on if it can make an omelet.