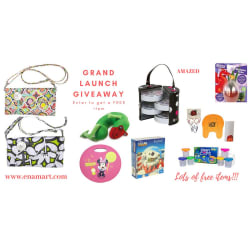 More details:
Giveaway: AMAZED LAUNCH GIVEAWAY
(Delivered)
We are giving away free items to launch our store and create awareness. Please subscribe to enter for a chance to win a free item.
About AMAZED
Life can be full of love. Loving is giving and giving is living. Finding the perfect product to express our emotions and feelings should be easy with the right product.
AMAZED is here to provide you with astonishing, surprising, mouth-opening and breath-taking products which can be used to produce your desired results. From casual gifts to special occasions or just a daily routine, our products are targeted at getting you to feel AMAZING.
The perfect gift brings the perfect smile.
Prize: Variety of items to be won!
Estimated Value: $14.99
For our grand launching, we're giving away the following items
-Lil' Lewis Frog Travel Pillow, Green -Clean Cups - No Spill Paint Cups - 6 Cups per Box -Cromartie High School Mechazawa Plush -Disney Club Penguin 3D Puzzle by Esphera by Eshpera 360 -Disney Minnie Mouse Kids Garden Kneeling Pad -Dunecraft Dragon Tree Science Kit -BestOfferBuy Novelty Toilet Bathroom Basketball Slam Dunk Game -C.R. Gibson IOTA Wallet, Rapture, One Size And lots more!!!
Consolation Prize: 10% off entire store purchase at www.enamart.com
Anyone who enters but doesn't win the Variety of items to be won! will receive a code to unlock the discount.
These were the winner's odds
Yet more giveaways for you (new and somewhat related)