Accessories....wear it, share it, love it! WIN THIS WITH FREE SHIPPING TOO! (U.S. ONLY)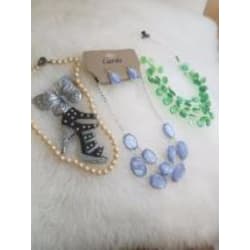 Giveaway: Accessories....wear it, share it, love it! WIN THIS WITH FREE SHIPPING TOO! (U.S. ONLY)
(Shipped)
One winner will receive this fashion jewelry bundle with FREE SHIPPING! All other entries will receive an exclusive discount to use on accessories! Snap a pic of you with some accessories you LOVE & share the pics on Facebook and on Instagram with @treehuggerboutique
Prize: 6 Piece Mixed Jewelry Bundle with 3 Necklaces, 1 Brooch, one keychain, and Earrings
Estimated Value: $20.00
Condition: Mix lot of new and used. One with unique vintage clasp. Damage to butterfly brooch as it was spray painted silver and some paint scratched off. High heel shoe keychain is missing keyring. Description:    3 Good condition/vintage inspired necklaces, 1 flawed butterly brooch, and one high heel keychain missing a keyring. SAVE BY SHOPPING AT TREE HUGGER BOUTIQUE!
Consolation Prize: 20% off any fashion jewelry purchase!
Anyone who enters but doesn't win the 6 Piece Mixed Jewelry Bundle with 3 Necklaces, 1 Brooch, one keychain, and Earrings will receive a code to unlock the discount.
Giveaway Status:
Winner Selected

03/01/2018

Tree Hugger Boutique will receive up to 17 karma for delivering the prize!
These were the winner's odds
Yet more giveaways for you (new and somewhat related)