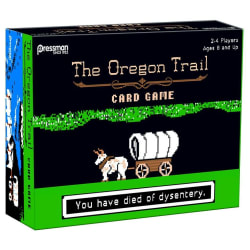 Giveaway: A (sort-of) family friendly way to contract dysentery
(Delivered)
No longer must you face the (virtual) dangers of the (DOS-based) Oregon Trail alone. With this prize you and your friends and family can face the (pretend) dangers of the (card-based) Oregon Trail together! Here are some helpful tips for the lucky winner.
Embarking on a 2,170-mile journey with nothing but bullets and oxen isn't the best idea but it sure is fun!
Doubling pace is a great way to get ahead of weather (or fight boredom)
Avoid dissin Terry err dysentery as it's a great way to get yourself killed
Remember that fording a river is the purest form of gambling
Flights to Oregon are cheap these days...
See you on the trail!
Prize: The Oregon Trail Card Game
Available on amazon.com
Estimated Value: $14.99
Players work together to move along the trail, fording rivers and playing Supply Cards to overcome calamities.
Playing Time: 30 Minutes or Less
Number of Players: 2-6 Players
Manufacturer's Suggested Age: 8 Years and Up; level of difficulty: Intermediate
Level of difficulty: Intermediate
Giveaway Status:
Winner Selected

12/27/2016

Wanderlink has received up to 1458 karma for delivering the prize!
These were the winner's odds
Yet more giveaways for you (new and somewhat related)