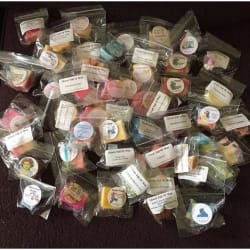 Giveaway: A sampling of random scents for one random winner
(Shipped)
Many beautiful things are said of scents...
"Sweat is the cologne of accomplishment" - Haywood Hale Broun

"Smell the smells, feel the fear, and smile at the incoherent way life runs us in circles while inscribing the real lessons in a corner of the margin" - Jonathan Lockwood Huie

"As you walk down the fairway of life you must smell the roses, for you only get to play one round." - Ben Hogan

"Scents bring memories, and many memories bring nostalgic pleasure. We would be wise to plan for this when we plant a garden." - Thalassa Cruso, To Everything There is a Season, 1973
But doing all that sounds like a lot of work. Much easier to let the scents come to you with this mini sample box of scented wax from from past sponsor Closet Full of Wax!

Prize: Mini sample box
Available on closetfullofwax.com
Estimated Value: $19.99
Great way to try lots of different scents This item will ship alone to insure a full box.
Box full of samples, shapes or full sized items. Different scents, some duplicates Scents are prepackaged at random.
Small sample box 20+ oz of wax
These were the winner's odds
Yet more giveaways for you (new and somewhat related)