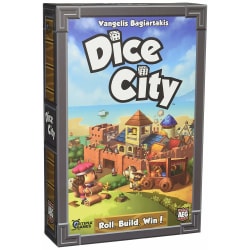 Giveaway: A fun way to not build a real city
(Delivered)
With its "Roll, Build, Win" mechanic, Dice City is a strategy game that is easy to learn and yet still complex enough for a player to be able to direct the defense, economic and cultural needs of their growing city.
Now if you are a city planner, IRL, you are probably tempted to dump a bunch of Karma into this giveaway as it could be a super-affordable, in fact free, way to acquire an easy and fun city planning tool to use in your work. This is a bad idea. We can not stress that enough.There are many, many professional city planning tools out there but this is not one of them. Wait, did I just link two video games?! Hmm... maybe you should do your own research.
Anyway, fun board game, not for real city planning. Best of luck!
Prize: Dice City
Available on amazon.com
Estimated Value: $20.00
Grow your Village! Provide for the economic, cultural and spiritual needs of your citizens and create a vibrant and growing village. Will you build a large military and defeat bandits? Create trade goods and sell them to neighbors, or construct amazing works of culture? Why not all three? The strategies are deep yet the game play is easy enough young and old players alike.
Giveaway Status:
Winner Selected

10/25/2018

Wanderlink has received up to 3688 karma for delivering the prize!
These were the winner's odds
Yet more giveaways for you (new and somewhat related)