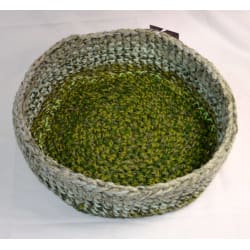 Giveaway: A crochet pet bed with many many uses
(Delivered)
Hand made from KalissaF's Etsy Shop, not only does this bed look amazingly comfortable for a cat or small dog but it may also work as a stylish hat for that Dogue de Bordeaux in your life. Or perhaps, like every other container in your home, it could primarily be used to hold "stuff". It has been stated in many reputable journals that "stuff" was a crucial building block in the formation of our galaxy. So whether you are looking for a Dogue de Bordeaux hat, a place to put your world building components or, more practically, a pet bed you have come to the right place.

Prize: Green Pet Bed - Perfect for Cats or Small Dogs!
Available on etsy.com
Estimated Value: $25.00
A unique hand made crochet pet bed.
Colors go from dark green on the inside to light green on the outside.
Perfect for cats or small dogs.
About 10 inches across, 3 inches tall.
100% acrylic yarn. Machine Washable.
These were the winner's odds
Yet more giveaways for you (new and somewhat related)
---
All Comments (4)
misgrn - 11/15/2017 7:12 p.m. (direct link)

Got it today. They LOVE it! Thanks again!

It's so cute! I wish my kitties weren't the size of a compact car LOL

earthdaisy - 11/11/2017 4:37 p.m. (direct link)

The kitties have been waiting for this giveaway to start since the first day they saw it on the prize list! Yay!

My kitties would love this! <3