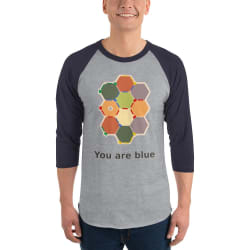 Giveaway: A clever Catan fan shirt for your new Catan expansion!
(Delivered)
As a self-proclaimed master of Settlers of Catan, you know all about the ever-present fear of being road, robber or settlement blocked. How many times have you woken up in the middle of the night from a road-material-wasting nightmare? Remember that lost longest road? What about the 2-for-1 that would have perfectly complimented your brick factory? Maybe that faraway settlement spot that got stolen by someone else AFTER you laid 3 links of road? We call these thoughts "Hexagonal Anxiety" and we find that the best way to "cope" is to put the experience on a shirt, allowing you to offload it on share it with your friends!
Even better, we have paired it with the acclaimed Explorers & Pirates expansion! That's right, win this giveaway and you will get both the shirt (in your choice of size/color) and the expansion to surprise your friends with at your next game night!
Prize: Hexagonal Anxiety shirt and Catan: Explorers & Pirates expansion
Available on gameniteshirts.com
Estimated Value: $78.00
Catan Expansion: Explorers & Pirates:
Catan: Explorers & Pirates includes 5 novel scenarios, each of which builds upon your previous experience. All are easy to learn, rich in character, and lots of fun. In each, you explore an unknown sea by ship and build settlements on the discovered islands.
Hexagonal Anxiety shirt:
As much as people love Catan, there are a few deep fears that underscore any good game. The first is getting blocked, repeatedly, and with nowhere to go. The second is, of course, getting robbed. Well we decided that it's not enough to experience that hexagonal anxiety during play so we have condensed the experience into its purist form and put it on a shirt! The combed cotton blend makes this shirt super soft, comfortable, and lightweight. The artwork is entirely fan-made and is in no way affiliated with the Catan trademark.
• ¾ sleeve raglan shirt • 100% ringspun cotton (Heather Grey 90% cotton/10% polyester, Heather Denim 50% cotton/50% polyester) • Ribbed neckbandSize guide
XS S M L XL 2XL
Width (inches) 15 ½ 17 ½ 19 ½ 21 ½ 23 ½ 25 ½
Length (inches) 28 29 30 31 32 33
Consolation Prize: 20% off entire order • One use per customer
Anyone who enters but doesn't win the Hexagonal Anxiety shirt and Catan: Explorers & Pirates expansion will receive a code to unlock the discount.
Giveaway Status:
Winner Selected

01/21/2019

Game Nite Shirts has received up to 955 karma for delivering the prize!
These were the winner's odds
Yet more giveaways for you (new and somewhat related)
---
All Comments (2)