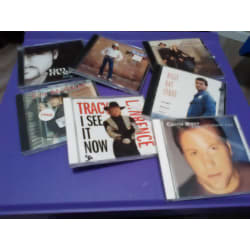 More details:
Giveaway: 90s Nostalgia Country Music CD Pack (Redux)
(Delivered)
[This prize was never claimed on its first go-'round. That means you have the chance to win it once more!]
When you think of the glory days of country music, do you find your eyes glazing over as you hum "I see it now"?
Does your heart get a little Achy-Breaky when you compare today's country hits to the music of yesteryear?
If you find yourself "On the verge" of going all-in on this giveaway, here are the specifics of the music that could be coming your way "Not a moment too soon."
This 90s Nostalgia Country Music CD Pack includes the following albums:
Tim McGraw - Not a Moment Too Soon
Tim McGraw - Everywhere
Billy Ray Cyrus (pre-Miley) - Some Gave All
Tracy Lawrence - I See It Now
John & Audrey Wiggins
Neal McCoy - No Doubt About It
Colin Ray - I Think About You
Included are "used" and "discount!" stickers for added authenticity!
Don't let yourself regret how it "could've been me" to win this. For your chance, all you have to do is "give me that wink" -- I mean, karma.

These were the winner's odds
Yet more giveaways for you (new and somewhat related)