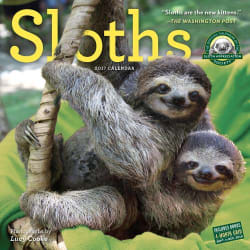 Giveaway: 2017 Slot Calendar (Redux)
(Delivered)
The first winner of this sloth calendar was too slooooooow to claim the prize, so anyone who missed out the first time has another chance. Still plenty of time for delivery before Jan. 1!
Original description: Sloths are the new kittens! At least, that's what "The Washington Post" claims on the cover of this brand new, 2017 calendar.
Whether you agree with the WP, loved the DMV scene in "Zootopia," could spend hours watching these slow-moving critters at your local zoo, or simply count "sloth" as your favorite deadly sin, this calendar will tell the world of your sloth devotion AND keep you organized.
This is a standard-sized wall calendar with a different sloth photo for each month. Enter the giveaway now, and we'll make sure this gets to you by January of the new year no matter how sloooooooooooow the postal service goes!

Prize: 2017 Slot Calendar (Redux) prize
Available on pageaday.com
Estimated Value: $14.99
These were the winner's odds
Yet more giveaways for you (new and somewhat related)