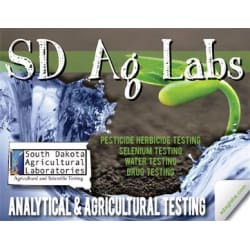 Giveaway: 10% Off One Test at SD Ag Labs
(Delivered)
The winner will receive 10% off of one test for one sample at South Dakota Agricultural Laboratories! Prize value varies depending on the test needed.

Prize: 10% Off One Test at SD Ag Labs prize
Available on sdaglabs.com
Estimated Value: $24.00
Sponsored by: SD Ag Labs
Sponsor rating: 100/100
Giveaway Status:
Winner Selected

05/18/2016

SD Ag Labs has received up to 4 karma for delivering the prize!
These were the winner's odds
Yet more giveaways for you (new and somewhat related)